Chris Voss, Codie Sanchez, and a host of real estate rockstars joined us on the podcast in February. Listen in and learn what today's top entrepreneurs are doing to succeed in—and out of—the real estate space. Guests also shared their strategies for goal setting, real estate investing, building new businesses, and more.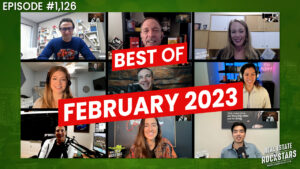 Listen to today's show and learn:
Jason's advice for new agents who want to sell commercial real estate [7:17]
Focus on market share, not dollars [8:56]
Shifting business strategy for the shifting market [11:05]
Wally's advice on setting goals [17:33]
Tips on staying top of mind [21:21]
Building a real estate business that can withstand all market conditions [23:57]
How to avoid friction when negotiating deals [25:31]
Advice on becoming an expert negotiator [31:14]
Why motivation really matters [33:10]
Why cutting costs is only part of the financial-freedom equation [34:29]
Advice for people on leaving a W-2 job for a career in real estate [37:46]
Unlock your potential by surrounding yourself with the right peers [40:21]
Showing business owners the value in a no-money-down offer [42:38]
How to apply systems, processes, and technology to businesses formerly owned by Boomers [43:25]
The first business deal you should look for [46:43]
Thank You Rockstars!
It might go without saying, but I'm going to say it anyway: We really value listeners like you. We're constantly working to improve the show, so why not leave us a review? If you love the content and can't stand the thought of missing the nuggets our Rockstar guests share every week, please subscribe; it'll get you instant access to our latest episodes and is the best way to support your favorite real estate podcast. Have questions? Suggestions? Want to say hi? Shoot me a message via Twitter, Instagram, Facebook, or Email.
-Aaron Amuchastegui