You're not just a real estate expert. On today's Let's Get Social, Courtney Hatfield explains how to become the local expert via social media. Hear how to become a resource for people interested in your area and how to win their business as a result. Courtney also gives listeners a quick-start guide to real estate newsletters, which includes tips on choosing content, finding templates, and evaluating marketing platforms.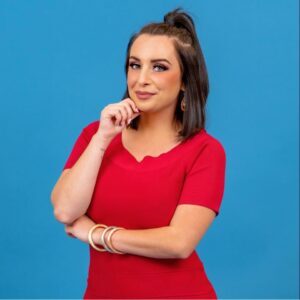 Listen to today's show and learn:
How to position yourself as an expert on your area [5:38]
Advice on promoting content via the various social platforms [7:43]
A way to create a wealth of varied content in just one day [11:21]
Advice on titling your community highlights [12:00]
Fun ideas on what to include in a monthly newsletter [12:39]
How Follow Up Boss makes it easy to manage a monthly real estate newsletter [15:02]
What to do with your first few real estate newsletters [16:22]
How to express that you're not just a real estate expert [18:11]
Where to find newsletter templates [20:04]
Courtney Hatfield
Courtney Hatfield fell into team leadership by happenstance but in their first year built one of the top 3% teams in NE, Ohio. Courtney did this by being authentic, consistent and selective. Authentic content, consistent in her routine, follow up & socials. She is selective about who she brings on the team because culture matters.
Related Links and Resources:
Thank You Rockstars!
It might go without saying, but I'm going to say it anyway: We really value listeners like you. We're constantly working to improve the show, so why not leave us a review? If you love the content and can't stand the thought of missing the nuggets our Rockstar guests share every week, please subscribe; it'll get you instant access to our latest episodes and is the best way to support your favorite real estate podcast. Have questions? Suggestions? Want to say hi? Shoot me a message via Twitter, Instagram, Facebook, or Email.
-Aaron Amuchastegui