Mortgage rates are more than double what they were this time last year. Homes are sitting on market longer and longer, and there's a major disconnect between buyers and sellers. In Andrew Perrie's market, the average offer coming in now is $200,000 below asking price. On today's State of the Market podcast, we give our predictions on rate reductions, share strategies for getting deals done right now, and offer encouragement to agents who are struggling with slowing sales.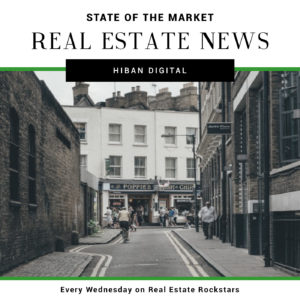 Listen to today's show and learn:
Seven rate increases in Canada since February [3:20]
How real estate markets in Canada have changed since early 2022 [4:07]
Texas real estate markets [5:34]
The biggest problem with traditional listing strategies right now [7:35]
Setting expectations with today's sellers [8:47]
Houses not getting offers at asking price [11:14]
Wholesalers tying up and reselling homes in Texas [16:21]
Investors with ARM loans running into trouble [20:06]
Canadian real estate investors writing off losses [21:44]
Pivoting away from online leads [26:15]
Ideas for in-person real estate events [26:58]
Goals to grow a real estate business in 2023 [29:59]
Andrew's predictions on rate reductions [38:12]
Canada's home shortage [40:05]
The buyers winning in this real estate market [42:57]
Where to find and follow Andrew Perrie [45:52]
Andrew's final thoughts [46:17]
Related Links and Resources:
Thank You Rockstars!
It might go without saying, but I'm going to say it anyway: We really value listeners like you. We're constantly working to improve the show, so why not leave us a review? If you love the content and can't stand the thought of missing the nuggets our Rockstar guests share every week, please subscribe; it'll get you instant access to our latest episodes and is the best way to support your favorite real estate podcast. Have questions? Suggestions? Want to say hi? Shoot me a message via Twitter, Instagram, Facebook, or Email.
-Aaron Amuchastegui