Looking for tips on real estate investing, updates on interest rates, or advice on goal setting? If so, you won't want to miss this podcast with Wally Elibiari, a lender and investor with over two decades of real estate experience. On today's podcast, Wally shares his personal goal-setting plan (one that helped him purchase over 200 doors) and what his most successful strategy has been in shifting markets.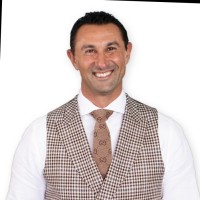 Listen to today's show and learn:
A quarter of a century in lending [3:16]
Shifting business strategy for the shifting market [4:22]
Tips for getting more referrals [9:22]
Wally's advice on financing homes right now [16:54]
Managing your real estate debt [20:48]
Wally's real estate investing journey [21:44]
Cost segregation for real estate investors [26:00]
The problem with some apartment complexes [26:50]
Aaron's first apartment complex [34:11]
Wally's advice on setting goals [35:46]
Managing family and business [40:46]
Advice on planning your vacations and taking time for yourself [43:42]
How to reach out to Wally Elibiary [45:07]
Wally Elibiary
Wally Elibiary is a leader in the mortgage industry, recently creating his own mortgage company Empower Lending, a presence in the coaching industry, and a huge proponent of creating scalable business with a work-life balance.
After being in this industry for 23+ years, he has been through nearly everything. He has worked with some of the greatest loan officers to learn from and teach the most successful methods in his time.
• Wally helps finance professionals scale their businesses.
• And focuses on gaining your most precious resource back, your time.
Coaching sessions are a passion for Wally, and without them early on in his career he would not have achieved the success he has today. Passing forward the valuable lessons, and keeping his ears open for opportunity to learn is all he hopes to accomplish in future meetings.
Related Links and Resources:
Thank You Rockstars!
It might go without saying, but I'm going to say it anyway: We really value listeners like you. We're constantly working to improve the show, so why not leave us a review? If you love the content and can't stand the thought of missing the nuggets our Rockstar guests share every week, please subscribe; it'll get you instant access to our latest episodes and is the best way to support your favorite real estate podcast. Have questions? Suggestions? Want to say hi? Shoot me a message via Twitter, Instagram, Facebook, or Email.
-Aaron Amuchastegui