Why spend top dollar for low-quality real estate leads when you can generate better leads for significantly less? On today's podcast with 30 Under 30 Honoree Brandon Greenplate, we discuss strategies for generating real estate leads before they get to Zillow. Brandon also explains the 30 Under 30 application process, covers when to hire help, and offers advice for new real estate agents. Don't miss it!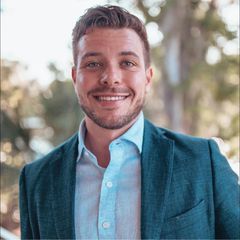 Listen to today's show and learn:
When Brandon Greenplate got into real estate [2:12]
Capitalizing on a real estate niche [4:08]
About Hilton Head Island real estate [5:21]
Brandon's first year in real estate and sales stats since [7:04]
Ways to generate real estate leads [8:26]
Catching potential clients before they hit Zillow [11:04]
How to screen potential investor clients [13:51]
Giving investors the tools and information needed to succeed [15:41]
A blueprint for generating your own real estate leads [17:47]
Search terms to consider for your real estate market [22:40]
What new real estate agents need to know [24:35]
What a real estate assistant should do [28:02]
When to hire your first real estate assistant [29:16]
The 30 Under 30 application process [33:31]
Brandon Greenplate's real estate predictions and advice [39:43]
Where to find and follow Brandon Greenplate [41:03]
Brandon Greenplate
Brandon Greenplate is a Luxury Realtor, Short Term Rental Specialist, and Real Estate Investor in Hilton Head Island, SC. As a graduate of Clemson University, Brandon has leveraged his degree in Business Management & Entrepreneurship to build a highly successful Real Estate business.
Since the launch of his company in 2020, Brandon has sold over $50m worth of real estate positioning him in the top 2% of market performers. The elite service he provides is evidenced by the over 50 five-star online reviews and earned the distinction of "Best of Zillow" (Top 10%). He has also added significant value to his client's holdings, creating over $15m in equity and cash flow to their investments.
As a leading (local) voice in luxury short-term rental investments, Brandon's business and market insights have been featured in several online and traditional media outlets. Most notably on local ABC News affiliate and Realtor Magazine's "30 under 30" list.
He is also a dedicated member of his community, having completed the local Chamber of Commerce Leadership Program and working on development projects to address the local workforce housing issue. Brandon is on a mission to help investors and families build wealth through real estate and live their dream on Hilton Head Island.
Related Links and Resources:
It might go without saying, but I'm going to say it anyway: We really value listeners like you. We're constantly working to improve the show, so why not leave us a review? If you love the content and can't stand the thought of missing the nuggets our Rockstar guests share every week, please subscribe; it'll get you instant access to our latest episodes and is the best way to support your favorite real estate podcast. Have questions? Suggestions? Want to say hi? Shoot me a message via Twitter, Instagram, Facebook, or Email.
-Aaron Amuchastegui