Is fear holding you back from taking the massive action required to make meaningful changes in your life? On today's podcast with Brian Luebben, we discuss how to overcome fear in order to achieve incredible things. Brian also shares how real estate helped him find financial freedom, why now is the best time to work toward goals, and where he found meaningful support in his journey. Don't miss it!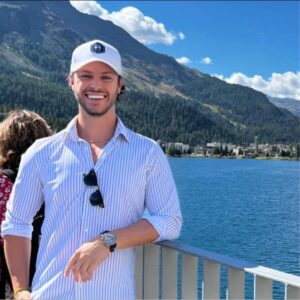 Listen to today's show and learn:
About the Action Academy Podcast [2:43]
Brian Luebben's brief background [6:36]
Creating a path out of corporate America [8:37]
The "tomorrow isn't promised" philosophy [14:13]
The power of a vivid vision [15:29]
Brian's inspiration for something better [18:11]
The 2023 Real Estate Rockstars Mastermind [24:35]
Advice on taking massive action [26:07]
Brian's take and tip on Mastermind meetups [30:55]
Advice for agents on taking action [34:15]
Aaron's door-knocking strategy for foreclosure properties [36:10]
Brian's final thoughts: force change before it's forced on you [38:50]
Where to find and follow Brian Luebben [40:00]
Brian Luebben
Brian Luebben is an Entrepreneur, Podcaster, and Real Estate Investor out of Atlanta, GA. While in college he built his first company (GreekBeats DJ/Entertainment). Shortly after graduating – he made it to the top of a Fortune 500 Company in their Sales Organization, only to realize quickly that living the "corporate America life" for the next 40 years was simply no longer an option.
He now runs a successful podcast "The Action Academy" where he talks to seven, eight, and nine figure entrepreneurs on how to earn freedom in life and business. Through his podcast, cash-flowing real estate, and his Media Company (Sexton Media) he now has generated enough revenue via remote income sources to earn him Financial Freedom to do what he wants, when he wants, with who he wants.
This lead to him leaving his corporate job in March 2022, hopping on a one way flight, and traveling the world for 6 months straight.
His new mission is to help 1,000,000 other people do the same through The Action Academy.
Related Links and Resources:
Thank You Rockstars!
It might go without saying, but I'm going to say it anyway: We really value listeners like you. We're constantly working to improve the show, so why not leave us a review? If you love the content and can't stand the thought of missing the nuggets our Rockstar guests share every week, please subscribe; it'll get you instant access to our latest episodes and is the best way to support your favorite real estate podcast. Have questions? Suggestions? Want to say hi? Shoot me a message via Twitter, Instagram, Facebook, or Email.
-Aaron Amuchastegui