Listen in and catch the best real estate podcast moments of December! Guests shared the unique challenges they're facing right now and what they're doing to adapt to the ever-changing real estate market. Topics covered include strategies for winning new clients, ways to maintain great relationships with the clients you already have, and what new Realtors can do to get a strong start in this competitive industry.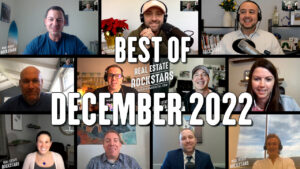 Listen to today's show and learn:
Leading with energy and enthusiasm [5:52]
How buyers can mitigate today's interest rates [7:25]
Advise on getting your real estate business organized [10:42]
Accepting change in an ever-changing industry [12:01]
Representing the buyers for Ellen DeGeneres' house [14:25]
How to find high-dollar deals [16:29]
The biggest problem with traditional listing strategies right now [22:08]
Setting expectations with today's sellers [23:18]
Pivoting away from online leads [26:05]
The root of all evil in real estate [28:40]
How to respond to a client who asks you to cut your commission [31:40]
Real estate agents as modern-day marketers [36:46]
Why YouTube is a better option than Zillow for real estate leads [37:42]
Tips on building a relational real estate business [41:05]
Tips on ensuring the transaction runs smoothly [43:24]
The three choices a property owner has in a market shift [46:33]
Why it's still possible to double or triple your business in a down market [47:47]
Thank You Rockstars!
It might go without saying, but I'm going to say it anyway: We really value listeners like you. We're constantly working to improve the show, so why not leave us a review? If you love the content and can't stand the thought of missing the nuggets our Rockstar guests share every week, please subscribe; it'll get you instant access to our latest episodes and is the best way to support your favorite real estate podcast. Have questions? Suggestions? Want to say hi? Shoot me a message via Twitter, Instagram, Facebook, or Email.
-Aaron Amuchastegui