Looking for ways to work in the luxury real estate market? Listen to today's podcast with luxury real estate agent Sarah Knauer and learn how to win listings at a higher price point. In addition to covering the luxury niche, Sarah shares systems for staying in touch with your sphere, how to keep it simple with CRMs, and what to do when deals fall apart. Sarah and Aaron also cover the benefits of joining a real estate team and locking in a daily schedule for success.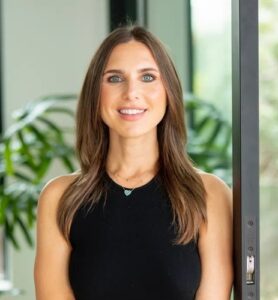 Listen to today's show and learn:
Sarah Knauer's start in real estate [3:25]
The pros and cons of being a salaried real estate assistant [4:49]
The benefits of joining a real estate team [6:57]
Finding the right fit for your personality [9:14]
Real estate is a long-term game [10:18]
Systems for staying in touch with potential and past clients [13:30]
Keeping it simple with CRMs [18:31]
Niching down without turning down opportunities [19:49]
Finding your real estate focus [23:41]
Sarah's daily schedule for success [27:06]
Leveraging who you know for listing leads [29:16]
What to do when deals fall apart [33:04]
Upgrades that matter in a luxury real estate market [39:13]
How to convince your client to agree to staging [42:23]
Where to find and follow Sarah Knauer [44:45]
Sarah Knauer
There's hardly an area of Los Angeles that agent, Sarah Knauer, isn't familiar with. From the San Fernando Valley to the Westside, this native has lived in or explored many of the city's regions and knows what makes each one unique. Assisting all types of clients from first-timers to investors to international multi-home buyers, Sarah is deeply passionate about helping each find their perfect home in her favorite city in the world.
Sarah obtained her real estate license in her senior year of college while pursuing a liberal arts degree at Pepperdine University. Not surprising, given her lifelong love of home and design and the fact that both her parents were residential and commercial real estate owners. A leisurely weekend for Sarah was attending open houses, and the Los Angeles backdrop made the experience even more special. Having lived in areas such as Westlake Village, Malibu, and Brentwood, and with her expertise in contracts, negotiations, and marketing, Sarah knows how to find and add significant value to the amazing real estate opportunities the city has to offer. This passion and expertise has also landed Sarah on NAR's 30 Under 30 List. She is also currently working on obtaining her broker's license.
Sarah currently lives in Santa Monica and enjoys hiking as well as discovering new restaurants and venues from Malibu to Downtown LA. She is also very involved in her community, which includes the Make-A-Wish Foundation and Pacific Palisades Chamber of Commerce: she is currently its youngest Chair and also sits on the board of The People Concern.
Related Links and Resources:
It might go without saying, but I'm going to say it anyway: We really value listeners like you. We're constantly working to improve the show, so why not leave us a review? If you love the content and can't stand the thought of missing the nuggets our Rockstar guests share every week, please subscribe; it'll get you instant access to our latest episodes and is the best way to support your favorite real estate podcast. Have questions? Suggestions? Want to say hi? Shoot me a message via Twitter, Instagram, Facebook, or Email.
-Aaron Amuchastegui