Aaron's story concludes in April with parts two and three. In addition to that, Aaron interviews several entrepreneurs on mindset, goal setting, and strategies for success in real estate. Erik Hatch also returns to the show to share "the perfect real estate blueprint." Tune in to today's highlight episode for that, tips on running a real estate business, and more. Don't miss it!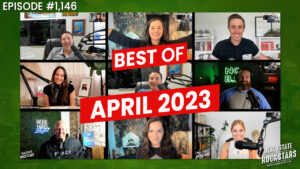 Listen to today's show and learn:
Why you should write a book [1:10]
How to write a book with no time and no writing experience [2:40]
Aaron's plans after leaving prison: construction management [5:43]
Where Aaron came up with "bonus time" [7:54]
Building a system for success as a real estate investor [8:50]
Scaling to 1,000+ flips with a home-building system [12:04]
An example of how entrepreneurs will always find a way [17:32]
When Aaron found his second chance at the foreclosure auction [20:18]
Three things any agent can do to set themselves up for success [22:26]
A simple plan for success in real estate sales [23:02]
Advice for real estate agents: practice your sales skills [28:21]
The mindset shift that supercharged Victoria's business [29:19]
Advice for new real estate agents [34:19]
The pros and cons of the VA loan [35:40]
David's advice on getting started with real estate investing [37:23]
How far ahead to plan your vivid vision [39:23]
The power of the vivid vision [44:49]
It might go without saying, but I'm going to say it anyway: We really value listeners like you. We're constantly working to improve the show, so why not leave us a review? If you love the content and can't stand the thought of missing the nuggets our Rockstar guests share every week, please subscribe; it'll get you instant access to our latest episodes and is the best way to support your favorite real estate podcast. Have questions? Suggestions? Want to say hi? Shoot me a message via Twitter, Instagram, Facebook, or Email.
-Aaron Amuchastegui