The real estate market is shifting. Are you ready and able to adjust your approach to buyers and sellers? On the first-ever interactive State of the Market, we respond to agents' live questions and concerns regarding this shift with strategies that have been proven to work in even the worst of markets. We also arm viewers with stats that can be used to keep sellers happy as sales start to slow down. Don't miss it!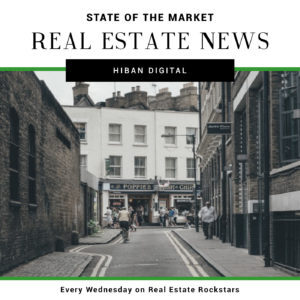 Listen to today's show and learn:
About Matt King [5:06]

About Stephanie Brackett [6:42]

Our first question: what could disrupt the real estate industry? [8:53]

How the market is shifting now [11:55]

Matt's real estate market outlook [14:26]

Big opportunities with home builders [19:29]

Stephanie's thoughts on the shift and strategies for agents [21:24]

The time when real estate all-stars are made [24:42]

The only thing on a seller's mind [27:42]

How to keep your sellers happy [29:07]

Interest rates on the rise [30:56]

A secret weapon for buyer's agents in this shift [32:56]

Renting versus buying in various markets [37:21]

A great source for real estate statistics [38:02]

Foreclosure statistics and inventory compared to the last crash [39:53]

The lag between what's happening in the market and public opinion [41:57]

Answering viewers' questions on leads [43:39]

The insane response rate we're getting to texts right now [45:28]

Where to spend your marketing dollars right now [47:00]

A simple script for your sphere [49:41]

Door-knocking strategies for the shifting market [50:34]

How to win real estate clients while driving for Uber [53:09]

Details on Real Estate Rockstars coaching [55:10]

The value of coaching and mentorship [1:00:10]

How to make your listing stand out [1:01::59]
Related Links and Resources:
Thank You Rockstars!
It might go without saying, but I'm going to say it anyway: We really value listeners like you. We're constantly working to improve the show, so why not leave us a review? If you love the content and can't stand the thought of missing the nuggets our Rockstar guests share every week, please subscribe; it'll get you instant access to our latest episodes and is the best way to support your favorite real estate podcast. Have questions? Suggestions? Want to say hi? Shoot me a message via Twitter, Instagram, Facebook, or Email.
-Aaron Amuchastegui