Ready to start a real estate business? Consider building your new career as a Realtor based on relationships. That's what Andrew Jacobs did, and he now gets 75 percent of his business from past clients and referrals. As a result, he doesn't have to spend any time or money on outbound marketing. On today's podcast, Andrew shares how to build a relationship-based business, offers advice on starting a real estate team, and explains why keeping things simple is the key to success.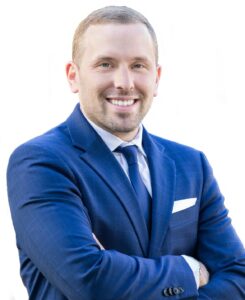 Listen to today's show and learn:
Andrew Jacobs start in real estate [1:50]
Leaving the music business for a career in real estate [1:17]
Lessons learned in the music business that apply to real estate [5:40]
Why real estate is the best career in the world [6:27]
Aaron's favorite part of being in a band [7:27]
Andrew's sales stats and team structure [8:54]
Advice on starting a real estate team: grow organically [9:54]
Learning to be a leader [15:17]
Why you should be honest regarding experience [16:20]
Two different paths for building a real estate business [17:49]
Tips on building a relational real estate business [20:32]
The value-giving mindset and winning clients at an open house [23:35]
Advice for following up with past clients [26:38]
Tips on ensuring the transaction runs smoothly [30:30]
Telling the sellers the truth about price [33:15]
Why national news and statistics shouldn't be applied to a Realtor's local market [37:43]
Following a checklist to ensure your transactions run smoothly [38:48]
Why simple = success in the real estate industry [41:39]
How to reach out to Andrew Jacobs [45:14]
Andrew Jacobs
Real Estate has been in Andrew's family for over 30 years. He is in the top 15% of the network and he serves all of lower Bucks County, PA, and a large portion of NJ as well. Whether selling your home or looking to purchase, Andrew will aim to exceed your expectations and help to achieve your goals. "If you can dream it, you can do it!" Feel free to reach out to Andrew personally anytime and he promises to give you his undivided attention. Andrew also encourages all Professionals to join him in donating to charity. At the end of each transaction, his clients get to choose which charity he will donate to. This initiative has resulted in many donations for important causes! Let us all give back to those in need. Contact Andrew anytime at 267-714-2900 or andrewjacobsrealtor@gmail.com
Related Links and Resources:
Thank You Rockstars!
It might go without saying, but I'm going to say it anyway: We really value listeners like you. We're constantly working to improve the show, so why not leave us a review? If you love the content and can't stand the thought of missing the nuggets our Rockstar guests share every week, please subscribe; it'll get you instant access to our latest episodes and is the best way to support your favorite real estate podcast. Have questions? Suggestions? Want to say hi? Shoot me a message via Twitter, Instagram, Facebook, or Email.
-Aaron Amuchastegui