Every Realtor should write a book, including you! On today's podcast with Chandler Bolt, the CEO of SelfPublishing.com, we discuss the benefits of writing a real estate book. Chandler also shares how any Realtor can write and publish a book in record time, even with no writing experience. Listen in and learn how a book will boost your business for years to come.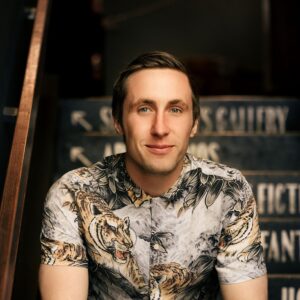 Listen to today's show and learn:
How Chandler Bolt got into book writing and publishing [4:16]
Chandler's first successful company [8:47]
How to identify potential business opportunities and book ideas [10:27]
Why you should write a book [15:29]
Aaron's books [20:05]
Marketing tactics for your first book [23:17]
How to write a book with no time and no writing experience [31:08]
How Aaron wrote his first book [33:00]
A FREE webinar on book writing for listeners [33:56]
Powerful books that Chandler helped publish [36:06]
Where to find and follow Chandler Bolt [39:06]
Final advice from Chandler Bolt [40:45]
Another reason to write a book: your legacy [42:14]
Chandler Bolt
Chandler Bolt is an investor, advisor, the CEO of SelfPublishing.com, and the author of 6 bestselling books including his most recent book titled "Published.". Selfpublishing.com is an INC 5000 company for 5 years as one of the 5,000 fastest-growing private companies in the US.
Chandler is also the host of the 7 Figure Principles Podcast and the Self Publishing School Podcast. Through his books, podcasts, YouTube channels, and Self-Publishing School, he's helped thousands of people write a book that grows their income, impact, and business.
He's currently spending his time scaling Selfpublishing.com, a company he's built from 0 to $43M+ in 8 years.
Related Links and Resources:
Thank You Rockstars!
It might go without saying, but I'm going to say it anyway: We really value listeners like you. We're constantly working to improve the show, so why not leave us a review? If you love the content and can't stand the thought of missing the nuggets our Rockstar guests share every week, please subscribe; it'll get you instant access to our latest episodes and is the best way to support your favorite real estate podcast. Have questions? Suggestions? Want to say hi? Shoot me a message via Twitter, Instagram, Facebook, or Email.
-Aaron Amuchastegui