Want to close more off-market deals? Interested in working with developers? In March, we interviewed several successful real estate professionals who each had their own unique approach to winning business. Aaron Amuchastegui also offered advice for agents who are struggling as sales start to slow and gave listeners a chance to learn more about the man behind the mic in part one of "Aaron's Story."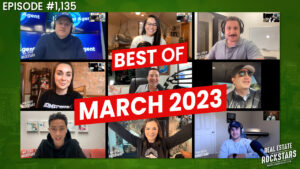 Listen to today's show and learn:
Overcoming failure with action [1:46]
Taking personal responsibility and rising up [3:17]
How to position yourself as an expert on your area [5:47]
How to express that you're not just a real estate expert [6:24]
Building relationships that generate real estate referrals [10:05]
Ways to stay in touch with clients via social media [13:03]
A simple strategy for budgeting when times are tough [18:32]
Final thoughts: double down on yourself [21:22]
Running a property management company [22:25]
What most real estate agents get wrong about property management [26:03]
How to find off-market deals right now [29:47]
Unlock your potential by surrounding yourself with the right peers [33:06]
Why Karina loves working with real estate investors [37:28]
Advice for real estate agents who don't invest in real estate [39:27]
What builders are doing instead of reducing prices [40:22]
How to build relationships with builders [41:50]
The mistake that changed Aaron's life: robbing a bank [46:15]
Aaron's time in federal prison and how it changed him [48:57]
Overcoming and learning from extreme failure [52:27]
Thank You Rockstars!
It might go without saying, but I'm going to say it anyway: We really value listeners like you. We're constantly working to improve the show, so why not leave us a review? If you love the content and can't stand the thought of missing the nuggets our Rockstar guests share every week, please subscribe; it'll get you instant access to our latest episodes and is the best way to support your favorite real estate podcast. Have questions? Suggestions? Want to say hi? Shoot me a message via Twitter, Instagram, Facebook, or Email.
-Aaron Amuchastegui