Sales may be slow in your market, but that doesn't mean your real estate business can't grow. On today's State of the Market podcast, we revisit the real estate predictions we made the last time Eric Bramlett was on the show. Plus, we offer new predictions regarding interest rates and the market as a whole. After that, we analyze Austin home sales and stats impacting real estate in similar markets. Finally, we cover the best ways to stay positive and productive during a downturn.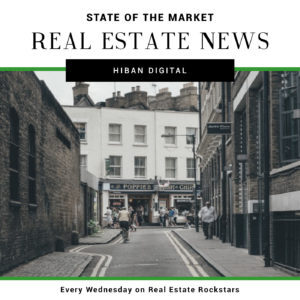 Listen to today's show and learn:
What's happening with the Austin real estate market [2:38]
Austin's peak median sale price compared to today's [7:26]
Agents working twice as hard to make the same amount of money [9:00]
Home buyers have lost their sense of urgency [11:25]
Why luxury home sales are slow right now [13:05]
Predictions regarding interest rates and the real estate market [15:48]
Predictions regarding commercial real estate and multifamily properties [18:31]
How to grow when the market is slow [25:30]
Pivoting away from inbound marketing campaigns [31:10]
The BIG benefit of a downturn [35:48]
Eric and Aaron offer their final thoughts [40:59]
Related Links and Resources:
It might go without saying, but I'm going to say it anyway: We really value listeners like you. We're constantly working to improve the show, so why not leave us a review? If you love the content and can't stand the thought of missing the nuggets our Rockstar guests share every week, please subscribe; it'll get you instant access to our latest episodes and is the best way to support your favorite real estate podcast. Have questions? Suggestions? Want to say hi? Shoot me a message via Twitter, Instagram, Facebook, or Email.
-Aaron Amuchastegui